Rock of Ages is a 2012 American romatic comedy musical film directed by Adam Shankman. The film is an adaptation of the 2006 rock jukebox Broadway musical of the same name by Chris D'Arienzo.
Originally scheduled to enter production in summer 2010 for a 2011 release, it eventually started production in May 2011 and was released on June 15, 2012.
The film stars Diego Boneta and country singer Julianne Hough leading an ensemble cast that includes Russell Brand, Paul Giamatti, Catherine Zeta-Jones, Malin Akerman, Mary J. Blige, Bryan Cranston and Tom Cruise. The film features the music of several 1980s rock artists including Def Leppard, Journey, Scorpions, Poison, Foreigner, Guns N' Roses, Pat Benatar, Joan Jett, Bon Jovi, David Lee Roth, Twisted Sister, Whitesnake, and others.
The film received mixed critical reviews, with a 41% critic rating on Rotten Tomatoes based on 208 reviews. However, Tom Cruise's performance was particularly lauded. The related film soundtrack also did critically well, certified Gold in Canada.
Directed by: Adam Shankman
Produced by: Jennifer Gibgot, Tobey Maguire, Matt Weaver, Scott Prisand, Carl Levin, Garrett Grant, Dan Shafer
Written by: Justin Theroux, Chris D'Arienzo, Allan Loeb
Story by: Chris D'Arienzo
Starring: Julianne Hough, Diego Boneta, Alec Baldwin, Tom Cruise, Russell Brand, Malin Akerman, Paul Giamatti, Catherine Zeta-Jones, Mary J. Blige, Brian Cranston
Music by: Adam Anders, Peer Astrom
Cinematography: Bojan Bazelli
Edited by: Emma E. Hickox

02:24

Rock Of Ages Official Trailer

Country: U.S.A.
Language: English
Running time: 123 minutes
Budget: $75 million
Box Office: $59 million
Release date: June 15, 2012
Distributed by: Warner Bros.
Plot
In 1987, Sherrie Christian (Julianne Hough) travels from Oklahoma to Los Angeles with dreams of becoming a singer. Meanwhile barback Drew Boley (Diego Boneta) prepares for another night of work at "The Bourbon Room" in Sunset Strip, Los Angeles.
As Sherrie approaches "The Bourbon Room" in Los Angeles, her suitcase is stolen. Drew, who is at the entrance of "The Bourbon", tries to catch the robber, but fails. He comforts Sherrie and, upon learning of her situation, gets her a job at "The Bourbon Room" as a waitress. 
Drew also asks Sherrie out for a date and she accepts.
Meanwhile the mayor of Los Angeles, Mike Whitmore (Bryan Cranston), who's on campaing, presents his wife Patricia Whitmore (Catherine Zeta-Jones) on television. Patricia Whitmore states on television that 'rock and roll' and its style of life is a disease for the youth, and she agrees to remove that way of life from the streets.
During their date, Drew confess to Sherrie that he wants to be a rock star but he has stage fright. Sherrie agrees to help Drew with his nerves on stage. They both start a romance.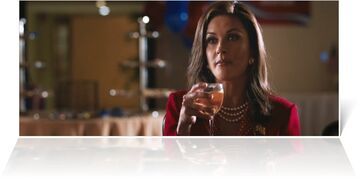 Meanwhile Mike and Patricia Whitmore are plotting to close "The Bourbon Room" since Mike needs the Sunset Strip locals free for other people. Patricia says to him that she will contact with a lot of conservative organizations to organize protests everyday in front of "The Bourbon". She also says to him that she will find if there are any irregularities at "The Bourbon". Patricia Whitmore's idea of making protests in front of "The Bourbon" became a success among all the conservative religious organizations.
The owner of "The Bourbon Room", Dennis Dupree (Alec Baldwin), and his right-hand man, Lonny Barnett (Russell Brand), are trying to find a way to pay off a tax debt that threatens the club. In hopes of raising enough money, Dennis and Lonny decide to book Stacee Jaxx (Tom Cruise), a rock star preparing for his final gig with his band, Arsenal. Drew and his band are selected by Dennis to play the opening act of Stacee Jaxx's concert and, with the help of Sherrie, Drew manages to surpass his stage fright during the rehearsal.
Stacee Jaxx arrives at "The Bourbon" to play that night. But before the concert he has an interview with the "Rolling Stone" reporter Constance Sack. During the interview, Constance mentions the rumors that Stacee is difficult to work with and implies that he was actually kicked out of Arsenal, a charge Stacee denies. After the interview, Constance lashes out at him, claiming that he was once a great musician but now is on the verge of becoming a has-been. Stacee orders everyone out of the dressing room so he can settle things with Constance privately and they both hook up.
After that, Sherrie goes to Stacee Jaxx's dressing room to give him a whisky bottle he ordered. When she goes out of the dressing room, Drew sees her and he thinks she had sex with her idol Stacee Jaxx but Drew has to perform the opening act.
After the successful concert, Drew break up wth Sherrie and signs with Stacee Jaxx's manager, Gill. Gill convert Drew into a pop star. After the deception, Sherrie decides to quit from her job at "The Bourbon" but, unable to find any proper job, she starts to work as a stripper.
After sometime, Drew visits the Hollywood sign, where he finds Sherrie. Sherrie tells Drew that she didn't have sex with Stacee and that she is going home. She also admits that she has been working as a stripper. Drew admits his new act is actually a boy band. Sherrie and Drew both lament the situation.
During a visit to the strip club where Sherrie is working, Stacee realizes he has feelings for Constance. So Stacee calls the "Rolling Stone" office in an attempt to find her, but the receptionist tells him that "she is covering Stacee Jaxx's show at "The Bourbon Room" and Stacee, unaware that he was supposed to perform that night, rushes to the venue.
There, Patricia Whitmore protest is taking place at the entrance of "The Bourbon", but Stacee Jaxx recognices Patricia as one if his former groopies. Lenny proves it's true showing an old photo of her and Stacee into the camera that is covering the protest.
Meanwhile, Drew has found all of Sherrie's stolen records at the Tower Records they first visited together. He buys them back and drops them off for her at the strip club.
The concert is about to start and the boy-band of Drew, "Z Guyeezz", start the show, but the rocker crowd rejects them, and Drew, spotting Sherrie in the audience, leaves the stage. The two reconcile and Drew also dismisses Gill. Sherrie reunites Wolfgang Von Colt for the opening act, where Drew performs the song he wrote for her. Stacee hears the song and is moved by it.
Eight months later, Stacee, who has rejoined Arsenal, performs the song with Drew and Sherrie, who is now part of Wolfgang Von Colt, in a concert at Dodger Stadium in front of a crowd that includes Dennis, Lonny, Justice, a pregnant Constance, and Patricia, who has returned to her rock 'n' roll persona.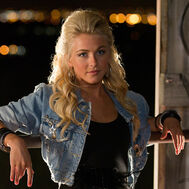 - Julianne Hough - Sherrie Christian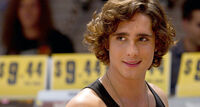 - Diego Boneta - Drew Boley
- Alec Baldwin - Dennis Dupree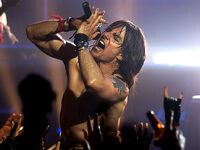 - Tom Cuise - Stacee Jaxx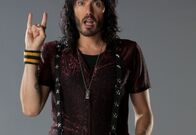 - Russell Brand - Lonny Barnett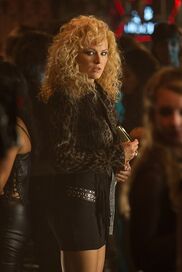 - Malin Akerman - Constance Sack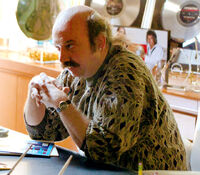 - Paul Giamatti - Paul  Gill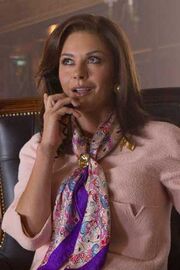 - Catherine Zeta-Jones - Patricia Whitmore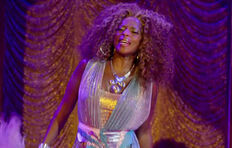 - Mary J. Blige - Justice Charlier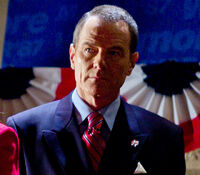 - Bryan Cranston - Mayor Mike Whitmore

Music:
The cover and track listing of the soundtrack was confirmed by Entertainment Weekly on April 30, 2012. The soundtrack was released on June 5, 2012. It debuted at No. 15 on Billboard 200, and peaked at No. 5 on that chart in its third week. It also debuted at No. 1 on the Top Soundtracks chart. It sold 267,000 copies in the US in 2012, making it the second best-selling soundtrack album of the year. It has sold 320,000 copies as of May 2013
1. Paradise City – Tom Cruise
2. Sister Christian/Just Like Paradise/Nothin' but a Good Time – Julianne Hough, Diego Boneta, Russell Brand, Alec Baldwin
3. Juke Box Hero/I Love Rock 'n' Roll – Diego Boneta, Alec Baldwin, Russell Brand, Julianne Hough
4. Hit Me with Your Best Shot – Catherine Zeta-Jones
5. Waiting for a Girl (Boy) Like You – Diego Boneta, Julianne Houg
6. More Than Words/Heaven – Julianne Hough, Diego Boneta
7. Wanted Dead or Alive – Tom Cruise, Julianne Hough
8. I Want to Know What Love Is – Tom Cruise, Malin Akerman
9. I Wanna Rock"– Diego Boneta 
10. Pour Some Sugar on Me – Tom Cruise
11. Harden My Heart – Julianne Hough, Mary J. Blidge  12. Here I Go Again – Diego Boneta, Paul Giamatti, Julianne Hough, Mary J. Blidge, Tom Cruise
13. Can't Fight This Feeling – Russell Brand, Alec Baldwin
14. Any Way You Want It – Mary J. Blidge, Constantine Maroulis, Julianne Hough
15. Undercover Lover – Diego Boneta, Julianne Hough 
16. Every Rose Has Its Thorn – Julianne Hough, Diego Boneta, Mary J. Blidge, Tom Cruise
17.Rock You Like a Hurricane - Julianne Hough, Tom Cruise
18. We Built This City/We're Not Gonna Take It – Russell Brand, Catherine Zeta-Jones
19."Don't Stop Believin – Julianne Hough, Diego Boneta, Tom Cruise, Alec Baldwin, Russel Brand, Mary J, Blidge.
The film is distributed by New Line Cinema under the rule of Warner Bros., and was released theatrically on June 15, 2012. The first official trailer was released on December 14, 2011, attached to Sherlock Holmes: A Game of Shadows.
Reception
Edit
The film has received mixed to negative reviews from critics; the film has a 41% critic rating on Rotten Tomatoes based on 208 reviews; the consensus states "Its exuberant silliness is almost enough to make up for its utter inconsequentiality, but Rock of Ages is ultimately too bland and overlong to justify its trip to the big screen."
However, most critics praised the performance by Cruise as Stacee Jaxx. For example, Rolling Stone critic Peter Travers wrote: "Rock of Ages is pretty fun despite a terrible script, bland leads and awful wigs, mainly thanks to a performance by Tom Cruise as fictional hair metal rocker Stacee Jaxx."
Ad blocker interference detected!
Wikia is a free-to-use site that makes money from advertising. We have a modified experience for viewers using ad blockers

Wikia is not accessible if you've made further modifications. Remove the custom ad blocker rule(s) and the page will load as expected.